Choosing a Tibetan singing bowl can be difficult. Every individual can be drawn to choose a different bowl.
Look at our current stock of Tibetan Singing Bowls
However, there are several types of Tibetan singing bowls – hand-beaten, machine-made and cast (Gulpa) bowls – and this post will describe each in turn.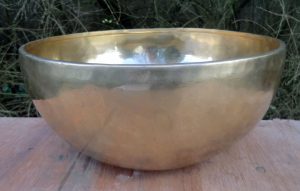 Hand-Beaten Tibetan Bowls
Firstly, hand-beaten Tibetan bowls. These are the sort of bowl most people think of when they talk of Tibetan singing bowls. There is a long tradition of making these in Tibet from where they take their name. As so many Tibetans live in exile in Nepal and northern India most bowls are now produced there. For this reason some people refer to Tibetan bowls as Himalayan bowls.
Our singing bowls come from Nepal where families continue the tradition of hand making these bowls. The basic shape is produced and then the metal is stressed with a series of hammer blows. This is a highly skilled process to produce a complex quality of sound from the bowls. Tradition talks of seven notes from a bowl corresponding to the seven chakras.
Look at our current stock of Tibetan Singing Bowls
Hand-beaten Tibetan bowls are normally played by running a playing stick around the bowl. Wooden sticks play higher notes from bowls. Suede covered sticks bring out deeper tones from bowls. It needs a little practice to play bowls getting the correct speed and pressure against the rim of the bowl. This is a knack rather than a skill and everyone can master it after practicing for a while.
Machine-Made Tibetan Bowls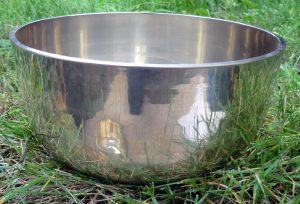 Machine-made Tibetan bowls, as the name suggests, are made with a mechanical process. They are generally polished rather than allowing a natural patina to develop as with hand-beaten bowls. Machine-made Tibetan bowls are easy to play. The sound is simpler and more bell-like than hand-beaten bowls.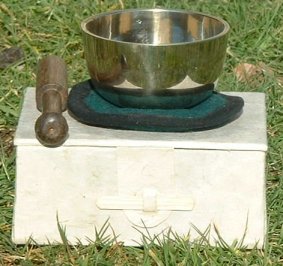 Some machine-made bowls are offered in a set with a mat, playing stick and the bowl itself in a strong cardboard box.
Look at our current stock of Tibetan Singing Bowls
Cast (Gulpa) Tibetan Bowls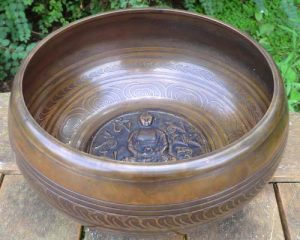 Cast or Gulpa Tibetan bowls have a similar sound to machine-made bowls. Some of them have a Buddha cast into the base of the bowl.