We have recently had new deliveries of crystal and Tibetan singing bowls.
Look here for our Current Stock of Singing Bowls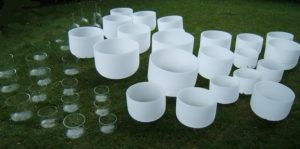 Quartz Crystal Singing Bowls
At the moment we have a large stock of all types of quartz crystal singing bowls with a good range of diameters and notes of frosted bowls, clear quartz bowls and practitioner bowls.
Frosted bowls range in size from 10 inches diameter to 18 inches (25 to 45cm). Clear bowls range in size from 130mm to 202mm (about 5.5 inches to 8 inches). The price of frosted and clear bowls include a rubber ring and a suitable rubber ball playing stick. Practitioner bowls range in size from 150mm to 180mm diameter with a clear quartz handle. They are supplied with a playing stick – no ring is needed as they are hand-held.
We have earlier posts that may interest you with advice for  Choosing Crystal Bowls and another on Using Crystal Bowls
Look here for our Current Stock of Singing Bowls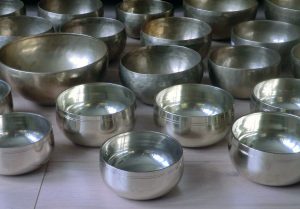 Tibetan Singing Bowls
We now have hand-beaten Tibetan bowls from around 400g to over 4kg (about 14 oz to over 10 lbs). The diameters of these bowls range from 17cm to 35cm (7 to 14 inches).  There are too many Tibetan bowls to list them all individually on the web site.  If you have a particular requirement please email us.
Machine made bowls are sold in box sets. There are three different sizes of bowls including a playing stick and quilted mat in handmade boxes. We also have two larger sizes of machine made bowls that are sold unboxed but with a playing stick.
This post has more details about different Types of Tibetan Bowls
Look here for our Current Stock of Singing Bowls