We stock various fairy themed items including statuettes, boxes, Tree Free greeting cards and candle holders.   Some of these are in short supply and available in limited quantities.
Fairy Statuettes
These are finely detailed resin statuettes with hand finished painted details. Each fairy design is supplied boxed.   Most of these statuettes depict fairies standing and they are typically six or eight inches high.
You can see exact details by using the link below to see our current stock.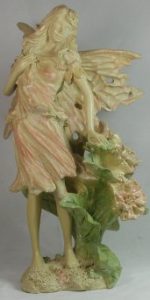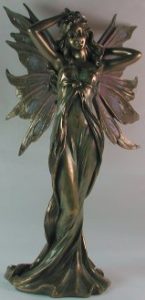 View our stock of Fairy Statuettes and Boxes
Fairy Art Nouveau Boxes
These fairy themed boxes have an Art Nouveau look and the bronze coloured boxes have hand painted details and raised patterns.   The lids hinge up and the insides are well finished and velvet lined.   The boxes are satisfyingly heavy and around eight inches long, four inches wide and just under three inches high.
View our stock of Fairy Statuettes and Boxes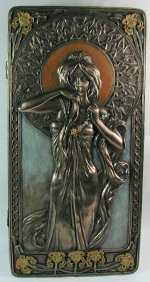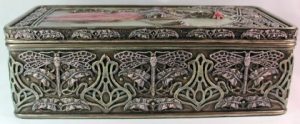 Fairy Tree Free Greeting Cards
Tree Free cards are quality six by four inch cards made from kenaf which is a type of reed used to make the paper and card.   There are twelve cards in a metal tin and the envelopes are equally beautifully decorated to match the cards.    The tin is also decorated and the lid has a window in it which one of the cards or another photo or picture can be placed if you wish.
We have one fairy themed design called Fairy Innocence.   There are many other designs using various animal pictures and also some with mystical themes and others using paintings by Manet and other famous artists.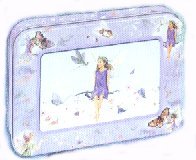 View all Tree Free Greeting Cards
Fairy Pewter Candle Holders
We have some pewter candle holders which have a circular frosted glass centre to diffuse the light from a T light candle behind it.   Around the frosted glass is circular pewter decoration with a fairy theme on a coloured glass ring. We also have other pewter candle holders with dragon and dolphin themes.
View our Pewter Candle Holders