Main pages in the Buddhist Section
Buddhist Prayer Wheels
Order from On Line Shop
---
Buddhist Prayer Wheels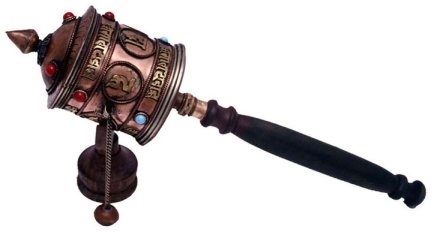 ---
Prices and ordering of Buddhist Prayer Wheels in our On Line Shop
---
Buddhist Traditions of Using Prayer Wheels
There is a longstanding Buddhist tradition of using prayer wheels. The spinning wheel containing a mantra or prayer (often Om mani padme hum) is considered the equivalent of reciting the prayer out loud. This may well be of Tibetan origin although many are now produced, like ours, in Nepal.
Buddhist monasteries sometimes have huge wheels kept rotating by being pushed by people entering or leaving. There are also wheels running twenty four hours a day driven by watermills.
---

---
Buddhist Items - Buddhist Prayer Wheels
Contact Us
Tel: 0118 926 8149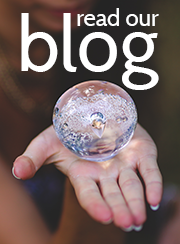 ---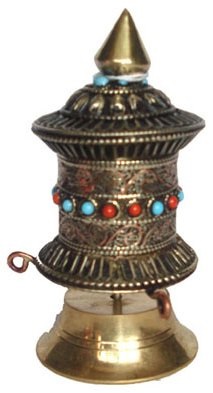 ---
Prices and ordering of Buddhist Prayer Wheels in our On Line Shop
---
Our Buddhist Prayer Wheels
We stock a range of designs of Buddhist prayer wheels. Some use a design with a decorated metal wheel on a wooden handle. Inside, the wheel is filled with a coil of papers with prayers written on them. There is a weight on a chain on the side of the prayer wheel. By swinging the handle the weight swings around and turns the drum.
Often the wheel is decorated with copper and brass auspicious symbols and crystal decoration. Some designs rest on a stand and are spun using metal loops on the side.
Some wooden designs are similar to the metal ones with a wooden drum replacing the brass and copper. They are played in the same way by swinging a weight. Other designs are mounted in frames and the spinning drums are painted.
---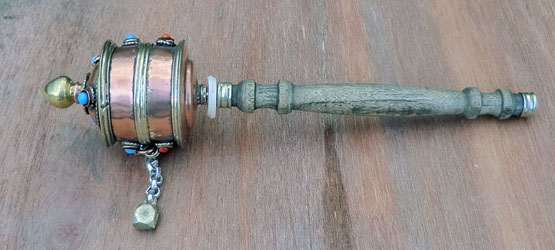 ---
Wooden Prayer Wheels
---

---
Prices and ordering of Buddhist Prayer Wheels in our On Line Shop
---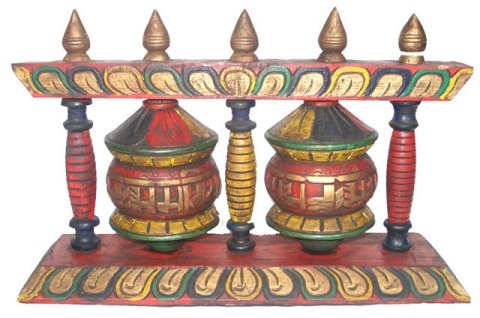 ---